Client Services
Design & Engineering
Stackbox designs and engineers structures from the ground up. This is accomplished with state of the art 3D CAD/CAM/CAE computer software, Autodesk Inventor and Autodesk AutoCAD Mechanical. Structural parts are run through a finite element programs to ensure their strength. These parts are bolted or pinned together in a 3D computer assembly to ensure they will go together on site with no problems and provide the ultimate experience they were designed for. Stackbox provides a structure that will be built to exact standards. Stackbox designs the structures to be rigid which allows the athletes energy to stay with them instead of being absorbed by the structure. Maximum energy means maximum affect. These structures are free standing and can handle large wind loads. They are versatile and can be erected and disassembled in short time periods. They can also be reconfigured on site for a different application or follow up event.
Custom Designs
While custom structures are being developed, Stackbox personnel work closely with the client. From the beginning requirements and specifications to researching local codes to the final 3D design. We also can provide test structures for the athletes to demo and approve for the final build. Structures can be set up at a remote location to provide athletes with a practice venue before the actual event. The client's specific needs are Stackbox's challenge.
On Site Assembly
On site construction of massive but portable structures is our specialty. Utilizing equipment from local companies, our crew will erect these structures in a timely fashion.
Athlete physics analysis
Stackbox can perform a complete physical analysis of the athletes motion as they travel over our structures and through the air. This is done to understand the velocities, g-forces, friction, both wind and surface interface, and the potential and kinetic energy at any time during the path. This allows us to know that the structure can meet the intended result and what is the calculated risk .
Elevated Banked Corners - Red Bull Crashed Ice
Interactive Branding
Red Bull Snowscrapers Big Air
Red Bull Skyscrapers BMX
Stadium Seating with Skyboxes
NYC Parks River Flume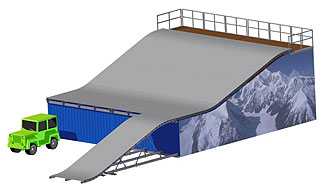 Jeep Street Sessions Rail Jam